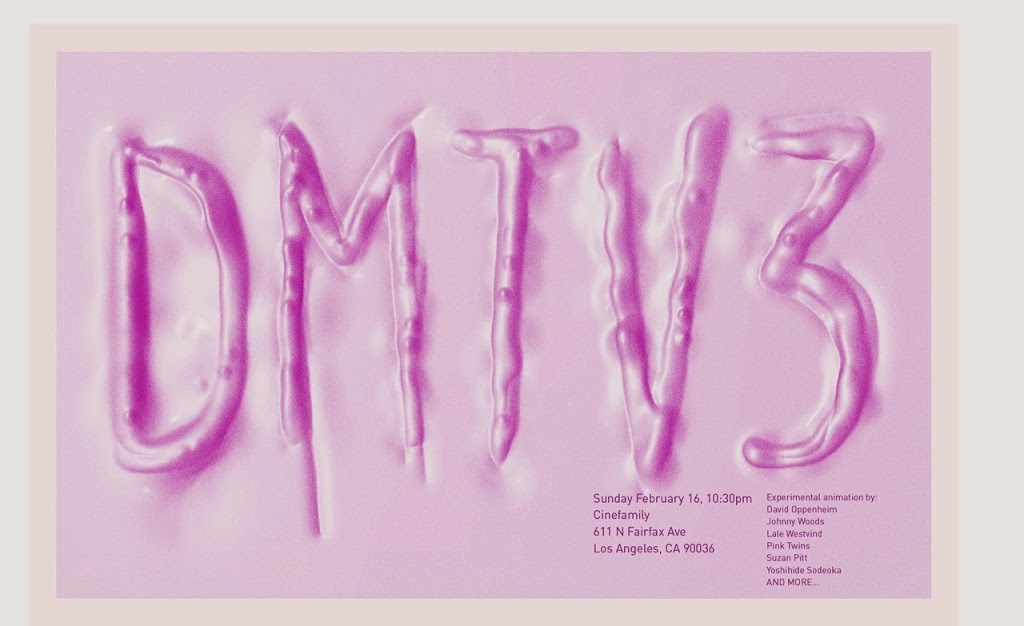 DMTV, the roving experimental/psychedelic/abstract animation festival curated by the fine folks at Portland's Floating World Comics, comes to the Cinefamily to present the third eye-opening installment of its merry-go-wound-up madness. As its festivaleers say: "The emphasis is on non-commercial work. We seek pure vision. Some of the films push visual noise and glitch to the limit while others reach a peak of ambient degaussed bliss."
WHO: Films by David Oppenheim, Lale Westvind, Pink Twins, Johnny Woods, Spectral Net, Suzan Pitt, Yoshihide Sodeoka and more!
WHAT: DMTV3 experimental animation festival
WHEN: Sunday Feb. 16th, 10:30pm
WHERE: Cinefamily, 611 N. Fairfax Ave, Los Angeles
UNIVERSAL CODEC ERROR ABORTING VIDEO // James Connolly
James is currently developing various video, new media, and research projects, teaching at the School of the Art Institute of Chicago, and working as the assistant curator of the Roger Brown Study Collection. His interests lie mainly in system glitches, blips, disruptions, and destructions as well as art histories, criticalities, and artistic/sociopolitical theories against hierarchical-authoritarian mainstreams. He destroys computers and cathode ray tubes in bright + noisy realtime performances and disrupts cultural and social data-flows in web and video-based hacks, glitches, and remixes. UCEAV is an examination of the errors that occur in everday video pirating.
ASPARAGUS // Suzan Pitt
This candy coloured nightmare rocked audiences upon its release and catapulted maker Suzan Pitt to the front ranks of indie animation.  Stunning cel animation propels its blank-faced protagonist into the world of the phallus, rendered here as a field of asparagus, which she deep throats, excretes and flushes away… The film's stunning set piece occurs before a claymation audience who gape as the artist opens her Medusa's box to release rare wonders. A moving meditation on art and the cost of reproduction, Asparagus remains, twenty-five years after its release, a benchmark of single frame intensity. Suzan Pitt's works have pushed the boundaries of the animated film form, thriving in both the art world and the television, theatrical, and festival venues.
FLESH GUN // Lale Westvind
Lale Westvind is an Artist/Illustrator living in NY. Her self-published titles include Hyper Speed to Nowhere, Chromazoid, Hot Dog Beach, Dubble Feecher, and Titus and the Cyber Sun. She is the recipient of several Ignatz Awards and an Honorable Mention from Best American Comics, 2013.
SPECTRAL SEQUENCES SN-04-001 // Spectral Net
The work of this quartet (comprised of Birch Cooper, Brenna Murphy, Sabrina Ratté, and Roger Tellier-Craig) shifts visually and aurally between the analog and the digital. Equally influenced by psychedelia and analog synthesized feedback, these videos undulate, shimmer, and pulse with an electric current surging from a hyper-conductive wire plugged into a supernatural outlet. Playfully gliding back and forth between different outputs and inputs, this group of videos shows a willingness amongst the collaborators to bring together the all-too-often divide between these unique technological spaces. In doing so, this collection provides entry into a new world where the digital and the analog coalesce and fuse, creating a newborn child of saturated splendor.
MORRIS // James Mercer
MORRIS follows two anonymous protagonists through waking and dream states. They glimpse a facility haunted by MORRIS, a life form with no body who only exists in dreams. Further exploration reveals fragments of a shadowy social structure in which MORRIS and the staff of the facility manipulate each other using bizarre symbols and mysterious scientific processes.
OUTER OSMO GHOST MODE // Johnny Woods, Alan Palomo
Johnny Woods is an animator and visual artist living in LA. His work employs a variety of digital and analog technologies in the creation of expanded cinema inspired by his fascination with electronic video processing and computer animation. He has received commissions from MOCA, The Museum of Sex, and the Bonnaroo Music Festival, as well as from musicians like Big Boi, Skrillex, Neon Indian, Twin Shadow, Bear In Heaven, Chrome Canyon, and Hooray For Earth. Alan Palomo, better know by the Neon Indian moniker, wrote and scored "Outer Osmo Ghost Mode," a fictional narrative centered around the interactions of Elda and Dell Banner, two online avatars stuck in the home map of a proto-virtual internet exploration program, Osmo.
NUMB COM // David OppenheimDavid Oppenheim is an artist / musician living and working in Tel-Aviv. Heading the label Heart & Crossbone his work can be seen at day-dream.com. This video was originally created for Plink Flojd, a super audio/visual collective started by David Quiles Guilló with co-founders Yoshi Sodeoka and Eric Mast AKA E*Rock. Although they were originally inspired by Pink Floyd, they take the homage to the next level and make a new art form. Some of their works show traces of the influences of Pink Floyd, some show none. Anything goes with Plink Flojd.
MIRACLE // Pink Twins
Pink Twins is a duo of visual artists and electronic musicians, brothers Juha and Vesa Vehviläinen, based in Helsinki, Finland. They build a tissue of connections between their sound work and their visual work, attempting to intimately join mundane fragments usually disjoint. They work from fragments of images, sounds and sensations which our daily life is subjected to and break them down into small particles to reunite them once again in audacious chaotic constructions."
DEVILS REIGN // Yoshihide Sodeoka
If video were lava, then the work of Yoshihide Sodeoka's would be a volcano. If overflowing with imagery, color, rhythm, and noise, these works showcase the visual and aural complexity of that locate Sodeoka as a leader within experimental digital video. In the blossoming glitching lotus that unfurls over the course of Devils Reign one can see that a type of feedback serenity sits at the core of Sodeoka's work. The seamless density of Sodeoka's collection speaks to his meticulous process, launching the viewer so far into the depths of a saturated ocean of analog feedback that a return to normalcy seems off-putting. He recently founded Undervolt & Co. a label for experimental video artists.
STONE YOUNG // Throne Boogie
Throne Boogie is Chris Taylor's production company where he makes posters, art books, tshirts, music and short films. Stone Young casts Neil Young in an homage to Australian cult biker films and 70s rock and roll psych exploitation.