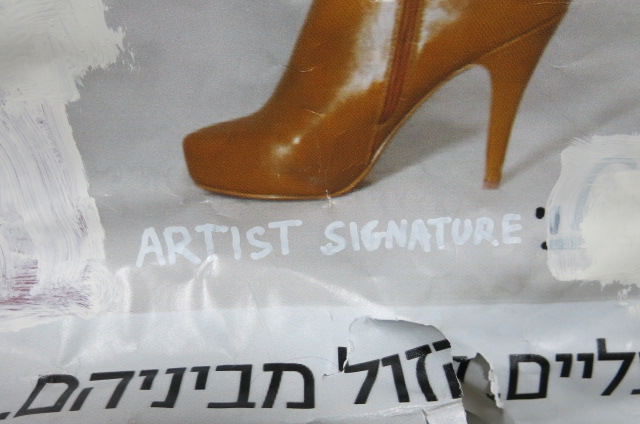 My work spans across a number of mediums; painting, sculpture, the internet, interactive electronic mechanisms, performance, video & audio. In my work I interact with found objects, packaging, advertisements, promotional media, designed objects that had a previous life as containing an artifact, an object of desire and a message.
I collect discarded potential surfaces, I am interested in those that show signs of usage and become personal, unlike the Koons appropriated advertisements, mine are a mass-produced ready-made but also a one-of.
My painting process 'tries' to consider a few parameters, I react to what is there, aiming to highlight what it can imply rather than what it actually is, it's a non-systematic reaction, i may have a plan & a set of rules regarding a specific piece, but while working i will change these or abandon them completely. Disrupting the system that was formulated within the initial steps coincides with my thoughts regarding our culture & control systems, the notion of change takes shape in the process. At the same time, the positive additive aspect of painting is challenged by the non-action, the surface that has not been manipulated by the artist & keeps its original values.
My artistic exploration derives from a subculture attitude and the artwork aims to provoke the viewer on a few different levels. I hope to get an emotional response, and that it will be followed by questions regarding the subject matter and the motive of the processes.
My interest in capitalism and commodities is clearly reflected in my artwork, the connection between production & consumption and between the art-world & its commerce systems as in 'Limited Edition' or 'Oil On Canvas'. I examine the textual & graphical language used by our current culture and adopt these from promotional material & advertising aiming to expose their true nature.
As a trained designer I try to reverse my do's & don'ts to somewhat forcefully unlearn, I use the authoritative nature of the drop-shadow [as in news headlines], but i do this in a non authoritative manner. Imitating the action of erasing graffiti or censorship of a voice and painting the non physical & virtual as western culture's new landscape painting ['monitor' series]. This can be seen as a humorous action but it is done out of disillusionment ['today is the day' on top of 'landscape'], Other levels of interpretation appear before during or after the work in created, thus giving me the possibility to go back and modify, erase, or cut a painting in half as in, the now 2 'half a CCTV warning sign' paintings. 'These holes are too big' is written out on a discarded part of a desk, since the holes are too big to be ignored, the surface hole ratio does not allow my desired interaction since it can not be used as a painting surface, declaring it as my art is the only way it can be re purposed.
David Oppenheim 2015
______________________________________________________________________________